SMILE is the winning strategy for the mining industry.
SMILE is the acronym that crystallizes our solutions.

for Shape
Boosting on-site physical health for a better engaged workforce.

for Mind
Keeping employee morale up to balance the challenges of the work mode.

for Impact
Investing in employees impacts productivity by creating a more effective work environment.

for Leadership
Promoting a positive leadership culture built on sound values.

for Energy
Maintaining high energy levels and commitment until the last day of the rotation.
Your health and safety actions on site need to be reinforced
Your employees are experiencing physical and/or mental health issues
You wish to reinforce your teams' cohesion
Your medical expenses are too high
You are seeking to reduce your absenteeism rate
You have just had a fatality
You wish to support your employees during a pandemic
At SMILE INDUSTRY, we know that health cannot be declared but has to be built. The WHO defines it as "a state of complete physical, mental and social well-being". Health is therefore multifactorial, but on site, staying in shape until the end of your rotation can be challenging!
Our experts come from the worlds of mining and physical and mental health. They have a perfect understanding of your environment and its stakes. Thanks to their experience, SMILE solutions activate all the levers of well-being on site and become powerful allies of productivity.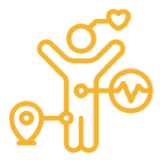 YOUR WELLBEING
The major challenge on site is to stay in shape and in good spirits throughout the rotation.
We offer digital solutions to support and accompany you from the first to the last day of your stay on site.

YOUR CAMP
The camp is a key player in your physical and mental health. It must support your well-being and facilitate your commitment.
Our experts conduct a thorough situational analysis to optimize all camp services that impact your well-being. We use the Lean Six Sigma approach.

YOUR TEAMS
Mobilization is essential to ensure the commitment of everyone. It is also a lever for productivity.
Our digital tools give you the means to strengthen your teams' engagement by injecting new energy into their daily work.