Corporate wellness is the winning strategy for your industry
A program adapted to your needs and your professional reality

for Shape
Getting tools to boost your teams' fitness is the promise of an increased performance at work.

for Mind
Consolidating your workers' mental health helps them keep a better work-life balance.

for Impact
Being committed to your workers' well-being means giving your company the means to retain their talents.

for Lead
Being actively collectively involved in a program is an efficient tool to reinforce team cohesiveness.

for Energy
Developping solutions to maintain high energy levels throughout the rotations.
You've already implemented specific procedures, such as :
PPE to protect your workers
Awareness campaigns
Regular audits and field inspections
Sport facilities
SMILE is a GLOBAL approach
It is much more than a set of measures.
SMILE provides tools to boost your workforce's global health
SMILE is an integral part of the management system
SMILE target-oriented and monitorable actions
SMILE relies on an explicit analysis of your workers' needs
SMILE has been developed exclusively for the mining industry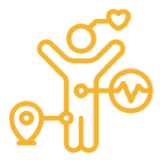 YOUR WELLBEING
Health is a daily and global work on body and mind.
Our experts guide through the foundations of health : physical activity, nutrition, stress-management, and socialization.
Together we build solutions that fit your needs and your environment.

YOUR CAMP
Spaces of work and collective life are key elements to motivation and wellbeing.
Our experts come to your site to help you optimize your infrastructures.
We favour a cost-effective strategy based on reusing, recycling and enhancing the existing places.

YOUR TEAMS
To be effective, your teams need to unite around a common goal.
Physical and mental health is a powerful managment tool for the mining industry.
Our experts provide with all the tools to form a SMILE HEALTH committee in your company.